Obama Family Departs Yosemite After Touring Popular Sites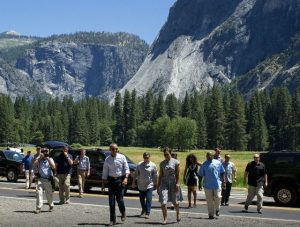 First Family In Yosemite
Yosemite, CA — While in Yosemite over the weekend, the First Family took the opportunity to visit popular sites like Yosemite Falls…and hike areas like Glacier Point and Happy Isles.
The White House has released several details about the trip. President Obama, accompanied by his wife Michelle and two daughters arrived via Air Force One at the Castle Airport in Merced County on Friday evening at 6:56pm. From there, they jumped on the Marine One helicopter and were transported into the park and eventually over to their room at the Majestic Yosemite Hotel (Ahwahnee).
On Saturday the motorcade  left the hotel at 7:36am and the President was transported to the park's recreation center for a morning workout. At 9:53am the President and First Lady were transported to Yosemite Falls. They were met there by a group of youngsters and highlighted the "Every Kid in a Park" program. The President and First Lady handed out free passes to the kids and took a group photo. The President told the children to say, "cheese", "national parks," and "happy birthday" (National Park Service is celebrating its 100th birthday). One child told the President "Happy Father's Day for tomorrow," and the President responded, "thank you."
Shortly after 11am, the President traveled to the Sentinel Bridge and delivered a 13-minute speech to around 300 dignitaries and members of the media. He spoke about the importance of National Parks, and concerns he has related to climate change. You can view the entire speech by clicking on the "play video" box in the upper left hand corner.
Throughout Saturday afternoon the First Family was given a vehicle tour of several areas, and made a notable stop at Glacier Point, which offers a spectacular panoramic view. The First Family hiked from Glacier Point down into the Yosemite Valley floor and were picked up near Southside Drive. The First Family then departed for the hotel at around 5pm where they remained for the evening.
Sunday also began with a morning workout, and the motorcade then left for a tour along the Merced River and eventually to Happy Isles, where the first family took a 2 ½ hour hike. Shortly after noontime, the Obamas returned to the hotel. At 2:16pm, the motorcade left towards the Ahwahnee Meadow landing zone where the first family again loaded up Marine One. From there, they were taken back to Castle Airport, and entered Air Force One at around 3pm. It was the end of their time in Yosemite.
Air Force One touched down at Joint Base Andrews at 10:19pm last night. There was a delay in getting off because it happened to be during the final two minutes of the Warriors and Cavs basketball game. A few seconds after Cleveland's victory, the First Family jogged down from Air Force One and boarded another helicopter to take them back to Washington, DC.