Update: Search For Missing Hikers Near Pinecrest Suspended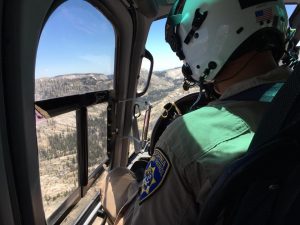 CHP Helicopter searching Crabtree Trail area

View Photos
Update at 11 p.m.: Tuolumne County Sheriff's spokesperson Sgt. Andrea Benson reports the search has been suspended with no sign of the hikers but will resume Friday morning.
Original post at 3:42 p.m.: Pinecrest, CA – Rescue crews are searching from the air and ground for a pair of hikers from Modesto.
A CHP helicopter and Tuolumne County Sheriff's Search and Rescue (SAR) Team is combing the Crabtree Trail in the Dodge Ridge/Pinecrest area for the pair along with their dog pictured in the photos in the upper left-hand image box. 55-year-old Donna Hallberg and 56-year-old Mark Smallwood along with dog Lulu set out on Sunday on the trail heading toward Gem Lake. The two were due home on Tuesday, but when they did not return on Wednesday a friend notified law enforcement sparking the search. With regards to the terrain, Sheriff's spokesperson Sgt. Andrea Benson details, "SAR said there is a wide range of types of terrain along that trail to the lakes. There is granite, meadows, and tree cover in some places. There is some steep terrain, valleys, canyons and high elevations ranging from 6,000-9,000 feet. There is also lots of snow in some places."
Benson says their older gray Chevy Tahoe SUV with "Harvest Moon" etched in the back window was located on a road near the trail. She notes Forest Service Officials left a note on the vehicle yesterday for the pair with a number to phone but no call has been received. Sgt. Benson indicates, "The pair has enough supplies and equipment for at least the three days they planned to be in the outdoors. Donna and Mark do have cell phones but due to the lack of service in the area their location was not able to be tracked."
Sgt. Benson adds that the two are experienced hikers and have taken the trail at least three times in the past.  The sheriff's office provided these descriptions of the duo:
Donna Hallberg:
White Female Adult
55 years old  Modesto Resident
5'08, 130 pounds
Short brown hair Brown Eyes
Last seen wearing capri workout pants, a black jacket and carrying a blue backpack. Donna has a tattoo on the back of her neck, "Live Life."
Mark Smallwood:
  White Male Adult
59 years old Modesto Resident
6'00  190 pounds
Brown hair
Anyone with any information on their whereabouts is asked to contact the Sheriff's Office immediately at 209-533-5815 and if possible give their approximate location.