Yosemite Anticipating Big Crowd With President Obama's Visit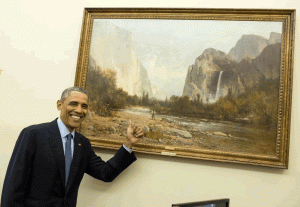 President Obama with photo of Yosemite

View Photos
Yosemite, CA — Yosemite National Park officials are warning visitors to be prepared for heavy traffic, and temporary area closures, with President Obama's visit to the park this coming weekend.
President Obama and his family are planning to arrive in the park Friday evening and the vacation will continue through Sunday. It is a historic occasion, as President John F. Kennedy was the last sitting President to visit Yosemite back in 1962. Yosemite officials have given no indication that there will be any public events in recognition of the First Family's visit.
Yosemite Superintendent Don Neubacher adds, "We are honored to host the President and First Family and we remain committed, as always, to serving every visitor to Yosemite. We want to give all visitors advance notice that heavy traffic congestion, full parking lots and several short-term area closures are anticipated throughout the weekend, particularly in Yosemite Valley."
So far this calendar year visitation has increased in Yosemite by 20% compared to 2015. Park officials report that most weekends this spring have seen heavy traffic congestion, full parking lots, and delays up to two hours.
The President's visit comes as the National Park Service is celebrating its centennial anniversary.