Update: Resources Remain Overnight On Rekindled Forest Fire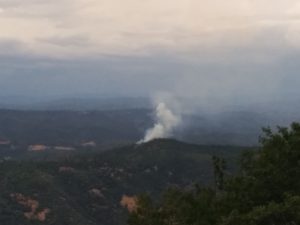 Bar Incident fire on STF from Big Hill Road

View Photos
Update at 10:00 p. m.: Forest officials say even though the flames have not grown from an acre in size, they are reluctant to call the fire contained. Wanting to err on the side of caution, the plan is to keep one engine and hand crew on scene overnight mopping up and checking for hotspots, according to forest officials.
Update at 4:50 p.m.: Forest officials report crews are getting a handle on the blaze, as all aircraft have been called off the scene. The fires remains at an acre in size. No structures are threatened.
Original post at 4:30 p.m.: Stanislaus National Forest, CA — Fire resources including Columbia air are battling a vegetation fire in the Stanislaus National Forest that was originally sparked Saturday morning.
Forest officials report the Bar Incident is a rekindle of a fire we told you about Saturday that was sparked along Forest Road 3N11 a mile northeast of Italian Bar Road near Rose Creek in the Columbia area around 2 a.m. The fire was contained at a quarter acres but has restarted and grown to an acre. It is burning in timber in a remote area. Today's flames broke out around 3:30p.m. On scene are on a helicopter, tanker, air attack, a dozer, two engines, one water tender and two crews. Forest officials report both a dozer and hose line have been completed around the flames. We will bring you more details as soon as they come into the news center.
A special thanks to our community news partner Paul Zak for sending in the photo.