Update: Vegetation Fire Near Lake Don Pedro Contained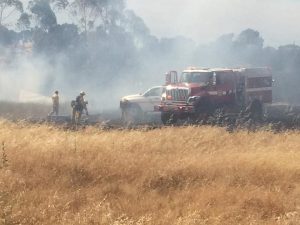 Fire near Lake Don Pedro

View Photos
Update at 4:45 p.m.: The fire has been contained at 3 to 5 acres. Cal Fire reports a home was threatened and an outbuilding was destroyed by the flames. What sparked the fire is under investigation.
Update at 4:40 p.m.: Cal Fire currently reports the fire is 3 to 5 acres and an outbuilding has been destroyed.
Update at 4 p.m.: Cal Fire reports the fire is one acre in size and structures are threatened.
Original post at 3:45 p.m.: Lake Don Pedro, CA – Fire resources are heading to a blaze near Lake Don Pedro in the La Grange area.
Cal Fire was alerted to the vegetation fire, which is burning along the 4600 block of Avenida Lugo and Los Nogales roads. There is no word yet regarding size, rate of spread or whether any structures are threatened. We will bring you more details as soon as they come into the news center.