Road Rage Ramming Leads To Felony Assault Arrest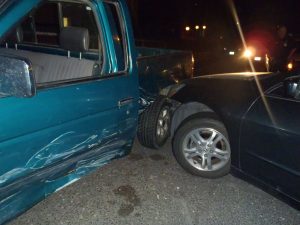 Sonora Road Rage Ramming Incident Scene

View Photos
Update: The charge of felony assault with a deadly weapon initially placed against Roy was later dismissed in court.
Original story: Sonora, CA — A vehicle accident that sparked a chase and ramming incident wound up with two arrested —  one for using his vehicle as a deadly weapon.
Sonora Police officials say just before 10 p.m. Wednesday officers responded to a report of a two-vehicle crash in the 100 block of Hospital Road with an altercation in progress.
According to the police report, Sonora resident Christopher Metcalf, 25, had been headed west on Mono Way in a 1997 Green Nissan pickup when he ran a red stoplight at the intersection of Mono Way and Greenley Road and hit a 2007 Honda Accord driven by Daniel Roy, 34, of Angels Camp. Police state that, as Metcalf fled the scene in his pickup, Roy gave chase in his sedan and began ramming Metcalf's truck from behind.
Attempting to evade his pursuer, Metcalf turned and traveled the wrong way down Hospital Road but Roy followed, causing Metcalf's vehicle to spin out and hit a parked vehicle. Roy then rammed the driver's side of Metcalf's truck and pinned it against a brick wall.
Although both drivers exited their vehicles and squared off in a verbal confrontation, witnesses intervened, according to police, who say neither driver was injured as a result of the incident but the vehicles sustained moderate to major damage, mostly as the result of the ramming incident. The parked vehicle also sustained moderate damage.
Subsequently, both drivers were arrested and booked into the Tuolumne County Jail. Roy was booked for felony assault with a deadly weapon. Metcalf was charged with misdemeanor driving under the influence, misdemeanor hit and run, plus misdemeanor driving on a suspended drivers' license.