No Tail Lights Beats Evading An Outstanding Warrant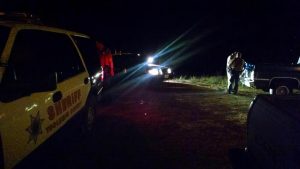 Traffic Stop Warrant, Drug and Firearm Arrest on Chicken Ranch Rd., June 9, 2016

View Photos
Sonora, CA — The jig was up early Thursday for a Sonora woman wanted on a warrant and the driver after deputies stopped a Chevy pickup for non-functioning taillights.
According to Tuolumne County Sheriff's spokesperson Sgt. Andrea Benson, it was around 12:30 a.m. when two deputies initiated a traffic stop on a 1987 Chevrolet truck that was seen on Chicken Ranch Road in Jamestown with no rear lights working.
Providing details behind the arrest, Sgt. Benson states, "The passenger in the vehicle, Allison Artzer, a 31-year-old woman from Sonora, lied about her identity in an attempt to avoid arrest. Her true identity was determined and she was found to be on searchable probation with a misdemeanor drug warrant for her arrest from the Oakdale Police Department."
Benson adds, "During a search of the truck, a methamphetamine smoking pipe was found and the driver, Luke Nunes, a 22-year-old man from Sonora, admitted to possessing a concealed firearm on his person. A loaded .357 revolver was found on him, along with a hypodermic needle. The methamphetamine smoking pipe was also determined to belong to him."
Nunes was booked into the Tuolumne County Jail for possession of a concealed firearm and drug use paraphernalia. Artzer was booked into the jail for the Oakdale Police Department warrant and for providing false identification to a law enforcement officer. As all of the charges are misdemeanors, both were released with court dates to appear.