Ranger Districts Removing High Hazard Trees In Target Areas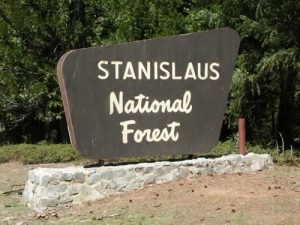 Stanislaus National Forest

View Photos
Sonora, CA – Citing current stats of the estimated 29 million-plus dead trees across California, the Stanislaus National Forest is busy tackling over a dozen projects identified as high-priority.
During the recent surge in tree kill rates from bark beetles due to long-term drought, forest officials report that local and state crews removed nearly 7,700 dead trees from high hazard forest areas. Almost ten percent of them were felled this week.
In the Groveland Ranger District along Highway 120, around 120 trees were taken out at the Lost Claim Campground. Tagged trees also came down in the Rainbow Pool Day Use and Pines Campground areas.
So far in the Mi-Wok Ranger District along Highway 108 tree removals were done at the American Camp and Cedar Ridge property boundaries, North Fork Picnic Area and Sierra Outdoor School.
Next on slate according to forest officials, are projects in three districts, so residents and recreaters should be aware of focused activities in the following locations:
Groveland Ranger District (Highway 120)
–The Groveland Ranger Station administrative site
–Cherry Valley Campground; for hazard tree salvage operations
–Wagner Ridge; for an eastside fuelbreak
–Middle Fork Day Use Area.
Mi-Wok Ranger District (Highway 108)
–Forest Road 4N01 from Spring Gap to Crandall
–The Cold Springs and Hull Meadow property boundaries
–Crandall OHV Campground
–Thommy Road
Calaveras Ranger District (Highway 4)
–Big Meadow, Lake Alpine, Sand Flat, Stanislaus River, Union Reservoir East and West, Union Reservoir West, Utica Reservoir, and Wa Ka Luu Hep Yoo campgrounds