Graduation For Summerville / Connections Academy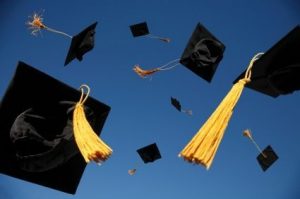 Graduation Caps

View Photos
Summerville High School and Connections Visual and Performing Arts Academy will hold their Graduation Ceremony for the Class of 2016.
Diana Harford, Principal for Connections Academy was Friday's KVML "Newsmaker of the Day".
The Class of 2016 will graduate tonight @ 8 PM at Thorsted Field. This evening's ceremony will conclude with a fireworks show.
Harford urges the public to arrive early as the parking spots and seats will fill up quickly. There will be shuttle service from the Westside parking lot beginning at 6:30 PM and the shuttle will transport people back to the Westside parking lot after the ceremony.
During the Summer, Harford will have a few weeks off to recharge and then prepare for the new school season beginning Wednesday August 24th. Harford will return as the Principle for both Connections and Summerville High School.
Connections is a Charter School that shares the campus with Summerville Public High School. Any student from seventh through the twelfth grade is eligible to apply to attend regardless of where they live in Tuolumne County.
A Charter School is a public high school that is funded by attendance, just like every other public school. Connections Academy students are public school students.
According to Harford, this type of shared and integrated campus experience is so rare that there may only be two or three other high schools in the state of California with a similar situation.
Earlier this week, Cassina High School held their graduation ceremony on Wednesday evening. The 2016 class Sonora Wildcats graduated last night. Brett Harte, Tioga and Don Pedro High will hold their graduation ceremonies both tonight and tomorrow.
The "Newsmaker of the Day" is heard every weekday morning on AM 1450 and FM 102.7 KVML at 6:45, 7:45 and 8:45 AM.