Tuolumne SAR Helps Rescue Missing Hikers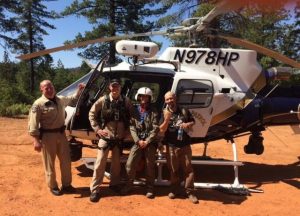 Search And Rescue in Tuolumne County

View Photos
Tuolumne County, CA — Three hikers are safe after going missing yesterday.
The Tuolumne County Sheriff's Office reports that the three men ventured out from the Cedar Ridge area to hike in the area of Keltz Mine Road. They are all Tuolumne County residents, 68-year-old Ford Canutt, 31-year-old Travis Canutt, and 42-year-old Oblio Canutt. The father and his two sons took a cell phone and water on their planned three hour hike. A concerned family member notified the Sheriff's Office last night when they did not return. The Search and Rescue Team ventured out but could not located the trio. This morning at 6;40AM Oblio called the Sheriff's Office to say he was lost on a ledge by a river. He noted that he and his family members got separated and had gone different directions.
Shortly after the call, the other two family members notified family that they had made it out safely and were now back on Keltz Mine Road.
Shortly after 8:30AM SAR member Autumn Fox was picked up by a helicopter and flown to Oblio's location to assist in hoisting him away. Oblio was successfully rescued and returned to the area of his brother and father.
The Sheriff' Office is reminding everyone to take needed supplies this year when recreating in isolated areas.