Yosemite Bracing For Big Crowd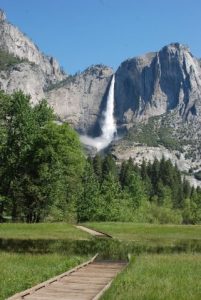 Yosemite Waterfall

View Photos
Yosemite, CA — A huge crowd is expected in Yosemite National Park this Memorial Day weekend. Park Ranger Scott Gediman anticipates traffic backups at various times. The best bet is to make sure you arrive at the park before 9am.
Gediman says, "For this weekend especially, if you come in real early in the morning and get a parking spot, hop on a shuttle, hop on a trail, or jump on a bike, you'll probably be fine. But we just want folks to know that if you come during midday it's going to be very, very busy."
Gediman notes that traffic delays in the park ranging up to two hours are common during the Memorial Day weekend at peak hours. He encourages people to consider taking the YARTS bus. All campgrounds on the reservation system are sold out through the weekend and there are a very limited number of first come first served campsites.
Interest has been high in Yosemite so far this year as the park reports that overall visitation has been up 20% this calendar year.
Tioga Pass and Glacier Point Road are both open for the season and there is still some snow at the highest elevations. The waterfalls are also going at full force.