More Than 10,000 Pot Plants Found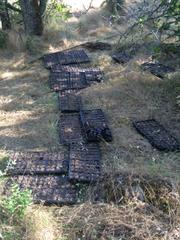 Plastic plant beds

View Photos
Copperopolis, CA – A property owner discovered a 10,800 pot plant grow on his land in Copperopolis even though the cultivators tried to cover their tracks and a campsite.
The Calaveras County Sheriff's Department was tipped off to the pot grow by the owner of the property on Rock Creek Road. While doing his cattle checks, he noticed a hose that the grower had tried to cover up by burying it with dirt, rocks, and grass leading to a pond.
Upon the arrival of the Calaveras Narcotics Enforcement Unit, investigators found and eradicated the marijuana plant seedlings, which were growing in rows of plastic beds. A campsite with fresh groceries was also found hidden in the brush but the suspects were long gone. No surprise to Sheriff Rick DiBasilio who notes, "Probably they heard the property owner on his quad and he got to close and they panicked and they bailed out of there. They don't want to have involvement with anybody…they typically want to avoid arrest."
The street value is estimated to be in the millions, according to Sheriff DiBasilio.