Update: No Threat At Junction Shopping Center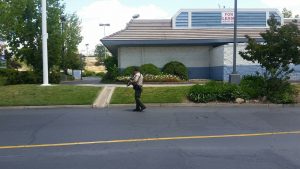 Law Enforcement Activity In Junction
Update at 1:35pm: The Tuolumne County Sheriff's Office reports the law enforcement activity this afternoon at the Junction Shopping Center turned out to be a false alarm.
The Sheriff's Office responded to an alarm indicating a possible "hold up" and deputies were dispatched to investigate. Sgt. Andrea Benson says no threat was located. At one point at least one person in the area was handcuffed, but the Sheriff's Office indicates it was due to someone not listening to orders and done out of caution at the time.
Original Story Posted 1:20pm: Sonora, CA — There is a lot of law enforcement activity near the KFC and former McDonalds at the Junction Shopping Center in East Sonora.
Tuolumne County Sheriff's deputies have surrounded the KFC building. The Mono Way entrance to the center has been temporarily blocked off. An unidentified woman was brought out in handcuffs, while deputies are using a loud speaker to communicate with others in the building.
We will pass along additional information as soon as it becomes available. You will want to avoid the area.
A special thanks to community news partner Donovan Sherrill for e-mailing photos. Pictures can be e-mailed to news@clarkebroadcasting.com.