Update: Fire At Lake Don Pedro Contained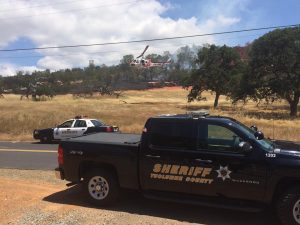 Arbolada Road Fire

View Photos
Update at 1:25pm: CAL Fire reports the vegetation fire along Arbolada Drive is contained. Fire officials were initially estimating the blaze was 10-15 acres in size, but now have a better view and say it was closer to seven acres. Mop-up continues at the scene.
The Tuolumne County Sheriff's Office was initially dispatched in the event that evacuations would become necessary. The Sheriff's Office reports the cause of the fire is believed to be a homeowner that was cutting dry grass with a lawnmower. The Sheriff's Office is asking that you take extra precautions if cutting grass or wood, or burning debris piles.
Original story posted at 12:05pm: Tuolumne County, CA — CAL Fire confirms a report of a fire in the Lake Don Pedro area.
According to dispatch, the call came in during the 11 o'clock hour. Currently the fire, located on Arbolada Drive, is described as 10 to 15 acres in size, with the forward progress stopped. All of the air resources from Columbia airbase are on it, as well as seven engines and a dozer. Three hand crews are en route. According to CAL Fire, it is currently unknown whether or not the blaze is an escaped debris burn. We will provide more details as they become available.