Macedo Recognized For Leadership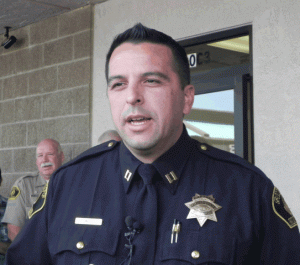 Jim Macedo

View Photos
San Andreas, CA — Captain Jim Macedo of the Calaveras County Sheriff's Department received a standing ovation at today's Board of Supervisors meeting.
Macedo was given a special proclamation thanking him for his exceptional work leading the department in the month's following Sheriff Gary Kuntz's death. Macedo, who resides outside the county did not apply for the position of Sheriff. Living in the county is a requirement to hold the role. Community member Peter Racz came up to the podium and tongue-and-cheek criticized the Supervisors for failing to recruit Macedo to move into the county.
Supervisor Steve Kearney responded jokingly, "We did ask him to move to the county….my knees got callused….but he said no. We were begging at one point."
Macedo also received kind words from the other Board of Supervisors for his leadership, in addition to being praised by incoming Sheriff Rick DiBasilio.
Macedo was humble in his response to the proclamation. He thanked the Supervisors, but was quick to point out that it was a team effort, and could not have been done without several other men and women with the Sheriff's Department.