Prioritizing Dead Tree Removal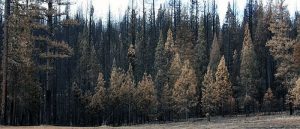 Dead trees in the Rim Fire burn scar

View Photos
Sonora, CA — Forest officials breakdown the tree mortality figures including the number of trees already cut down and the next areas to tackle.
Stanislaus National Forest officials report with the immense task facing the state as it is estimated there are more than 29 million dead trees in California; crews have been busy carrying out more than a dozen high-priority projects in the forest. To date, a total of 6,915 dead trees have been removed from high hazard areas. Just this week, more than 763 trees were fallen. To keep the public informed on its progress and strategy for eradicating the dead trees, the forest service has provided this outline:
Next Priorities:
Groveland Ranger District (HWY 120): Big Creek Shaft North Property Line HT; Groveland Ranger Station Admin Site HT; Garrotte Hazard Tree Salvage; Cherry Valley Campground Hazard Tree Salvage; Wagner Ridge Fuelbreak East.
Mi-Wok Ranger District (HWY 108): 4N01- Spring Gap to Crandall; Cold Springs Property Boundary; Crandall OHV Campground; Hull Meadow Property Boundary; and Thommy Roads.
Completed Projects:
Groveland Ranger District (HWY120): Cherry Lake Road HT (seven trees); Cherry Lake Road HT Abatement; Hetch Hetchy Transmission; Lost Claim Campground (120 trees); PG&E Powerlines – Curtis 1704 (920 trees); Sweetwater Campground (171 trees); Rainbow Pool Day Use.
Mi-Wok Ranger District (HWY 108): Cedar Ridge Property Boundary (seven trees); Hacienda Campground (19 trees); North Fork Picnic Area; Sierra Outdoor School (17 trees).