Paroled Murderer Busted For Drugs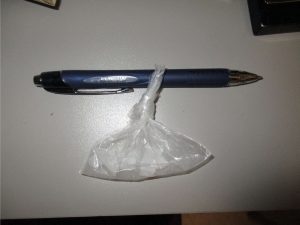 Drugs found

View Photos
Jamestown, CA — A deputy that stopped to check on a car parked on the side of the road in Jamestown nabbed two people for narcotics; one a paroled murderer.
The arrest took place Thursday around 2:53 p.m. on 5th Avenue when the deputy noticed a Hyundai parked on the side of the road. He pulled over and questioned the driver, 29-year-old Alejandro Guzman from Mountain House and his passenger, 30-year-old Michelle Coughennower from Roseville. The deputy ran a records check on the pair, which revealed that Guzman was on parole for murder.  That allowed for a search of the car that uncovered a baggie containing 6 grams of methamphetamine inside an ashtray. Sgt. Andrea Benson did not have any details on his murder conviction.
Both were arrested and charged with possession of a controlled substance, possession of a controlled substance for sale, transporting a controlled substance for sale. Guzman was put on a parole hold. Sgt. Benson indicates that Guzman may have been looking to move to Jamestown and that is why he was in the area. However, she states that is a violation of his parole, that requires he not leave the Hayward area without approval from his parole officer, which he did not have. Guzman remains in the Tuolumne County Jail on a no bail status.
Coughennower posted her $20,000 bail and was released.