Drug Dealers Caught After Casino Parking Lot Camera Cameo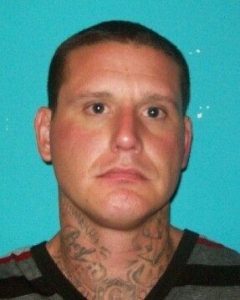 Frank Joseph Phillips

View Photos
Jamestown, CA — A man reportedly doing drugs while video surveillance cameras at a local casino rolled triggered a deputies' visit and subsequent drug arrests of three men.
According to Tuolumne County Sheriff's Office spokesperson Sgt. Deborah Moss, early Sunday, shortly after 2 a.m., deputies were dispatched following a call from security officers at Chicken Ranch Casino, who observed a man in the parking lot, injecting drugs while sitting in a 2010 white Lexus sedan. Upon their arrival, casino security was able to lead the deputies to the man, who had returned indoors and was playing on a slot machine. He was identified as Frank Joseph Phillips, 32, of Stockton.
Sheriff's officials determined that Phillips was on probation for possession for sales of narcotics and possession of stolen property. A vehicle search turned up two hypodermic needles, close to 53 grams of methamphetamine and two bags of marijuana respectively weighing in at 11 and 18 grams.
Two other men who had arrived with Phillips were also scrutinized by deputies. One of them, Brian Matthew Dehart, 29, of Lodi, was found to also be on probation for possession for sales of narcotics as well as three warrants; a felony no bail warrant and misdemeanor warrant out of Calaveras County and another warrant of the latter type from San Joaquin County. The third man is identified as an Angels Camp resident: 22-year-old Alexander Wright, who was cited for possession of drug paraphernalia and released.
Phillips, who posted his $60,000 bail, was released after being charged with transportation and possession of both methamphetamine and marijuana for sale and possession of drug paraphernalia. Dehart, booked on the same charges, is currently being held on the no bail warrant and a $60,000 bail on the fresh charges.