Butte Fire Cleanup Hits A Road Block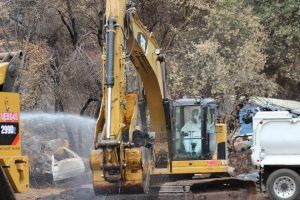 Butte Fire Recovery Debris Removal

View Photos
Mountain Ranch, CA — With just six properties remaining out of 850 already cleared after the devastating and deadly Butte Fire, work has been stalled on three due to construction of a temporary bridge, while the property owner of another remains a mystery.
Calaveras County officials are asking for the public's help to shed some light on "who the owner is?" County Government spokesperson Sharon Torrence notes only two properties with significant structural burn debris remain that have not signed a Right of Entry. One owner has been located by debris removal crews but the other has been elusive. She explains, "We've not been able to make any kind of contact so that particular property is on Old Greek Mine Road. They would like to hear from anybody that either lives on that road or knows of any information that could get them to that owner." She asks that you call Environmental Management Department at (209)754-6399.
Final clearing on three properties has been delayed by about a week due to the design and the structure problems involving the building of a temporary bridge to gain access to land at the end of Baker Riley Road.  County officials now estimated completion of the bridge next Thursday, May 19 with three crews working to finish debris clean up on Tuesday or Wednesday (May 24th or 25th).
Additionally, Three other owners are clearing their properties on their own, with one having met the state clean up requirements, another continues to make good progress and the third could require additional follow up to ensure its approval, according to Torrence.
However, Torrence indicated the county anticipates that some additional smaller clean ups could pop up on a case-by-case basis, sharing, "We've heard from people who live out of the area or are out of the country or that they inherited the property and just found out about the fire that kind of thing. So we expect that will continue." She notes these cleanups will involve smaller structures like sheds and barns.