Tuolumne Bridge Getting Earthquake Readiness Upgrades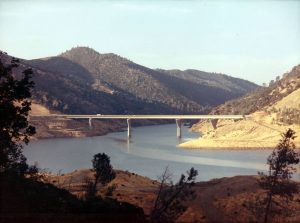 SR-120/James E. Roberts Memorial Bridge

View Photos
Groveland, CA — Groveland, CA — Caltrans is sinking nearly $21-million into the project on Highway 120 that millions travel to enter Yosemite National Park, which in turn helps boost the economy along the corridor.
To minimize the impact on nearby communities, a public meeting regarding detours and time schedules for the State Route 120/James E. Roberts Memorial Bridge Project in Tuolumne County will be held later this month. The bridge has not had a major overhaul since it was built 46 years ago, in 1970. Caltrans spokesperson Rick Estrada explains the work to be done, "The bridge deck will be replaced entirely. We'll be upgrading the bridge rails. What they'll also do is strengthen the structure itself to improve its ability to withstand an earthquake." He adds, "While the bridge is safe, they improvements will help provide an additional forty years of service life to the bridge."
Work on the 1,400 foot long bridge, which spans the Don Pedro Reservoir, is scheduled to begin after the Fourth of July holiday and wrap up in November 2017 before Thanksgiving.   The public meeting will be held on Tuesday, May 24 from 5:00 p.m. to 7:00 p.m. at the Groveland Community Hall located at 18720 State Route 120 in Groveland. Estrada notes that a webpage specifically for the project with detour maps and a construction calendar will go up after the meeting on the Caltrans' homepage.