Calveras Door Of Hope Celebration At White Pines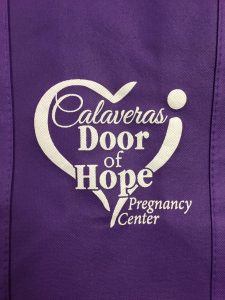 Calaveras Door of Hope

View Photos
Two years ago, the Calaveras Board of Supervisors voted to adopt a Resolution recognizing the Calaveras Door of Hope Pregnancy Resource Center for "their important work on behalf of women and children in Calaveras County". The Resolution brought attention to what the Door of Hope is all about.
Sissy Hedrick, the Executive Director for Calaveras Door of Hope, was Thursday's KVML "Newsmaker of the Day".
The Resolution language, which was found to be controversial, praised Door of Hope for inviting young women to "test and see for themselves the many blessings that can come from living the teachings of Christ."
Hedrick describes Door of Hope as a 501c3 non-profit Christian-based (or faith-based), pro-life organization, that is not a part of any one particular church. All of the workers, other than the Executive Director, are volunteers.
When Hedrick was asked why she has a passion for helping (mostly) young women who are pregnant, Hedrick replied, "As a society, we are interested more in human rights than in human life. We disregard babies as inconvenient or "not in our plan" or "not the right time". It's suddenly our choice to choose to end life in order to preserve our lifestyle."
The message that Hedrick offers to those looking for help is that, "Door of Hope is a safe place with volunteers and counselors who are non-judgmental and we offer resources not available elsewhere in Calaveras. Door of Hope is a place of love and there is not going to be condemnation regarding your situation or choices."
The Calaveras Door of Hope is located at 571 Stanislaus Ave, Suite J in Angels Camp, CA.
Door of Hope is funded by at least three fundraisers each year and individual donations.
One of the fundraisers will take place this Saturday May 14th at White Pines Park. It is called The Heroes Fun Run. There is a 5k and 12K option. Registration begins at 6:45 AM. The run begins at 7:30 AM. The registration Fee is $50.00 for runners.
There is also a two mile walk option. Registration begins at 9:00 AM and the walk begins at 10:00 AM.
The day's activities, which should continue until around 2:30 PM will include a silent auction, raffle prizes, food vendors, a coffee cart, games for kids
and more.
The telephone number for information is (209) 736-9600. The web address is http://carenetofcalaveras.org/
The "Newsmaker of the Day" is heard every weekday morning on AM 1450 KVML at 6:45, 7:45 and 8:45am.