SWAT Team Standoff With Burglars In Sonora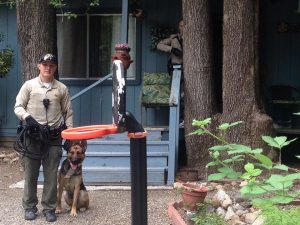 TCSD and K-9 Hans standoff with burglars on Good Shepard Drive in Sonora

View Photos
Sonora, CA — In a twist, an alert resident tipped Tuolumne County Sheriff's Deputies off to the thieves after noticing suspicious activity at a home on Good Shepherd Drive in Sonora not knowing it was actually his neighbor, moving stolen loot inside the home.
The chain of events that led to the standoff began around 7 a.m. on Thursday when deputies took a burglary report from a homeowner on Confidence Road in Twain Harte.  The thieves had broken into the house sometime in the past couple of days stealing a gun, several flat screen televisions, a lap top computer, numerous personal items and a white 2015 Lexus 350 car. It was three hours later that the call came into the sheriff's department alerting deputies to the possible burglary in progress at a home on Good Shepard Drive in Sonora. Deputies spotted the Lexus in the driveway of the home and surrounded it, but instead of storming into the home they ordered the suspects to surrender over a loud speaker. Sgt. Andrea Benson explains, "There was a gun stolen from the burglary on Confidence Road. It was unknown if there were weapons in the home or if they had possession of a gun.  For the deputies' safety, they stayed back until they were able to contact and get the suspects to come out of the home."
After several attempts, K-9 Hans was called to the scene with threats to send the dog into the home. The thieves still refused to come out of the home prompting a SWAT team to be called to the scene. Several more tense moments passed, and then finally the two men surrendered.
Surprisingly, one of the suspects a residentof the home, 33-year-old Randall Ghione. He and his accomplice, 32-year-old Jacob Murray of Sonora were arrested and booked for possession of a stolen vehicle and burglary. Ghione remains in custody on a $50,000 bail.
Murray also had several warrants out for his arrest among them a felony for failing to appear on a stolen vehicle charge and three misdemeanor drug related charges. He is being held on $120,000 bail.
Once inside the home, deputies found .29 grams of methamphetamine along with some of the stolen items from the Confidence Road burglary. However, the gun, laptop and flat screens have not yet been recovered.