Primary Ballots Being Mailed Next Week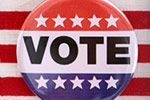 elections

View Photos
Sonora, CA — In anticipation of the June Primary election, vote-by-mail ballots will hit the mailboxes next week.
Tuolumne County Clerk and Auditor-Controller Debi Bautista reported at yesterday's Board of Supervisors meeting that anyone that fails to receive their requested vote-by-mail ballot by May 20 should contact the elections office at 209-533-5570. Tuolumne County has among the highest percentage of residents (over 70-percent of the electorate) that choose the vote-by-mail option.
Bautista added, "This is a very important time to get involved with your community. There are three Supervisors up for election, the city council is up for election, the city clerk is up for election, so even if  you don't want to be involved at the national level, please think about voting locally."
She noted that some past local races, specifically pointing to Sonora City Council, have been decided by just a handful of votes.
Other races on the June ballot include California Assembly, US Congress, US Senate and the President.