Thursday Meet State, Local Candidates On June Primary Ballot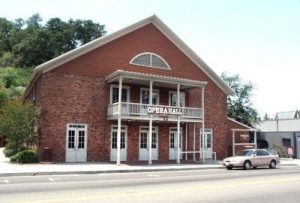 Sonora Opera Hall

View Photos
Sonora, CA – This Thursday local residents will have the opportunity to meet and hear from most if not all those running for city, county and state offices at a special Candidates Night.
Sponsored by the Tuolumne County Farm Bureau, the event begins at 6 p.m., is free and open to the public, and will be held at the Sonora Opera Hall (250 S. Washington St.).
At press time, Farm Bureau President Shaun Crook says 17 of the 18 candidates have indicated they will be present and one is currently trying to resolve a schedule conflict to attend. As he explains, "Tuolumne County Farm Bureau, every election cycle, hosts a candidates' forum, and it is very well-attended and very well-received by all of the candidates…I believe we are giving them each three minutes to make their statement and give their positions…then we open it up for some questions and answers — and we try to have at least five minutes total for every candidate." He points out that there will be no debating and the bureau will not be giving any endorsements.
Of the candidates on the June 7 ballot roster three are competing for the Tuolumne County Board of Supervisors, District 1 seat; incumbent Sherri Brennan, civil engineer Jerry Fuccillo and businessman Chuck Kiel.
In the District 4 race incumbent John Gray is being challenged by contractor Don Matter.
In the District 5 race, incumbent Karl Rodefer, the current board chair faces college instructor Sara Shier.
With three Sonora City Council seats up for election, incumbents Bill Canning and Connie Williams are both seeking reelection; also in the hunt are business owner Mark Plummer and former council member Matt Hawkins.
In the race for State Assembly Member District 5, incumbent Frank Bigelow is up against businessman/builder Mark Belden of Railroad Flat; Twain Harte contractor Robert Carabas; and student Kai Ellsworth, a resident of Greenwood.
Running to retain his US Congressional seat, Representative Tom McClintock faces Twain Harte physician Bob Derlet and solar instructor/author Sean White, of San Andreas.