Election Funding For Voter Surge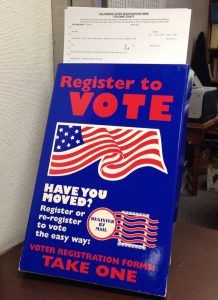 Register To Vote Sign

View Photos
Sacramento, CA – Governor Jerry Brown has given the green light to a bill that will fund additional cost for the state's upcoming California Presidential Primary Election that is expected to bring a huge voter turnout.
"Voter interest is climbing, and elections officials need to be prepared," contends Secretary of State Alex Padilla. As reported earlier this month, he put in an urgent request for more money to fund the June 7 primary due to a jump in initiative petition signatures and voter registration, which nearly a third came from Millennials. On Friday, his request was granted as Brown signed AB120, just one day after it was rushed through by lawmakers in the Assembly and Senate. California counties will get another $16 million to help manage election costs.
Calling the 2016 election cycle unique in nature, Padilla notes, "County elections officials must not only prepare for a surge in voter turnout, they also have to verify a massive number of signatures for ballot measure initiative petitions. This funding will help ensure counties can conduct smooth and successful Presidential Primary Elections."
With an influx of around 600,000 new voters registered so far this year, the money will help counties deal with increased printing costs for the much larger General Election Statewide Voter Information Guide and additional staff time to process initiative petitions and administer elections for the primary, which is expected to play a pivotal role for the first time in decades.