Thunderstorm Warning For South Central Calaveras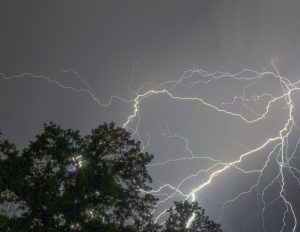 Tuolumne Lightning

View Photos
The National Weather Service has issued a Severe Thunderstorm Warning for south central Calaveras County until 2:00 PM
At 1:21 PM, Doppler radar indicated a severe thunderstorm capable of producing quarter size hail. This storm was located near Eugene and Oakdale and is moving east at ten mph.
Locations impacted include Oakdale, east Oakdale, Eugene, Telegraph City and Copperopolis.
Severe thunderstorms produce damaging winds, destructive hail, deadly lightning and very heavy rain.
For your protection, move to an interior room on the lowest floor of your home or business. Heavy rains flood roads quickly so do not drive into areas where water covers the road. In addition to large hail and damaging winds, continuous cloud to ground lightning is occurring with this storm. Move indoors immediately. Lightning is one of natures leading killers. Remember: If you can hear thunder, you are close enough to be struck by lightning.