The 59th Annual Mother Lode Round-Up Queen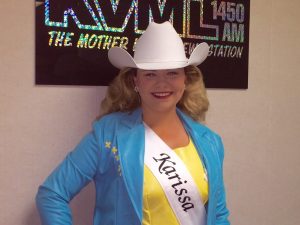 Karissa Rogers

View Photos
Last Sunday night, Karissa Rogers was crowned the 2016 Mother Lode Round-Up Queen.
Rogers was Wednesday's KVML "Newsmaker of the Day".
In addition to being named the Queen, Rogers also won the Congeniality Award, High Ticket Sales Award, Written Test Award, Speech Award, Interview Award, People's Choice Award, Photogenic Award and the Appearance Award.
In fact, the only category Rogers didn't win was Horsemanship. That went to first runner-up Samantha Turner.
Rogers is a Junior at Sonora High School where her favorite class is English. Roger's parents are Chris and Shasta Rogers and she has one younger sister who attends Jamestown Elementary. Rogers also has four horses.
According to Rogers, preparation is the largest lesson learned in running for Mother Lode Round-Up Queen.
"I'm looking forward to this year's rodeo and I've been waiting so long for it," said Rogers.
As for her future, Rogers would like to go to the University of Montana and obtain a Degree in Broadcast Journalism.
The second runner-up was Annie Torok.
The next big Roundup event is "Band Review" 6 PM Wednesday Night May 4th at Summerville High School, followed by the Calcutta on Thursday May 5th at the Sheriff's Posse Grounds.
A rundown of events can be found in the myMotherLode.com Roundup section.
The "Newsmaker of the Day" is heard every weekday morning on AM 1450 KVML at 6:45, 7:45 and 8:45 AM.