Full Agenda For Sonora Merchants Town Hall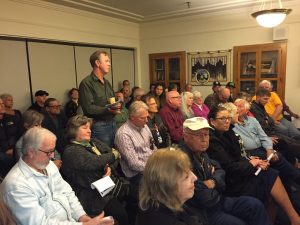 Sonora Merchants Town Hall Meeting

View Photos
Sonora, CA — Concerns about parking enforcement, issues related to the transient population, and the latest on the Vision Sonora plan, will be among discussion at an upcoming town hall meeting.
The third in a now ongoing monthly series of meetings geared for downtown Sonora merchants is scheduled for Wednesday from 8am – 9:30am at City Hall. While focused on downtown Sonora, anyone from the public is invited to attend.
In addition to the above referenced topics, Councilman George Segarini says there will be talk about the direction the merchants would like to take to attract more people to the downtown area, potentially including a younger demographic, and a short update on the planning commission's recent approval of the beer garden project.
There will also be a presentation by Kurt Clark of the Alliance Small Business Development Center. Others expected to speak include Sonora Police Chief Mark Stinson, City Administrator Tim Miller and Councilmember Connie Williams.