Dead Trees Coming Down In Forest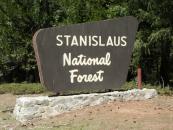 Stanislaus National Forest Sign

View Photos
Sonora, CA – The Forest Service has given more details and updates regarding its dead tree removal projects in the Stanislaus National Forest.
To date almost 2,500 dead trees have been removed from high hazard areas on the forest due to the recent surge in the mortality rate to around 29 million in California, according to forest officials. With more than a dozen high-priority projects, local and statewide resources have been assigned and are assisting in efforts to implement more than a dozen high-priority projects. "We have a lot of work to do, but projects are moving forward to remove hazard trees to make the forest safer for our visitors and residents," said Jeanne Higgins, forest supervisor for the Stanislaus National Forest.
The focus is to identify high hazard areas in the treatment zones, which include land adjacent to communities; campgrounds and trail heads; administrative facilities; and alongside roadways and infrastructure such as powerlines. Forest Service spokesperson Veronica Garcia outlines the risk zones stating, "We divided our crews on each highway corridor, 120, 4 and 108. They are surveying the area to see what trees are more hazardous. We divided the areas into three different risk zones high, medium/moderate and low, high being a frequently occupied area, such as campgrounds, trailheads and permanent structures." She adds that moderate includes areas that people walk around and can use vehicles with low zones being areas least visited by the public.
As previously reported, earlier this month the forest offered members of the public possible tree removal services if they qualify. Property owners need to fill out a Hazard Tree Evaluation Request Form. The hazard tree abatement will be considered on a case-by-case basis. For additional information you can call the Stanislaus Supervisor's Office at 209-532-3671.