Teaching Young People The Benefits of Flying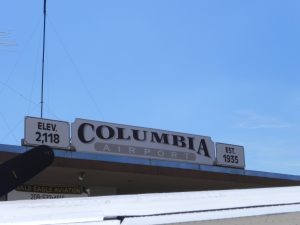 Columbia Airport Sign

View Photos
Area young people ages 8-17 will have a chance to take to the skies this Saturday April 23rd, as Experimental Aircraft Association (EAA) Chapter 1337 hosts a Young Eagles Flight Rally at the Columbia Airport.
Ed Sunday, Young Eagles Coordinator EAA Chapter 1337, was Thursday's KVML "Newsmaker of the Day".
According to Sunday, EAA is an international aviation membership association founded in 1953 and headquartered in Oshkosh, Wisconsin.
"Free airplane rides are just part of the Flight Rally," said Sunday. "We hope to build one-on-one relationships between pilots and young people, giving a new generation a chance to learn more about the possibilities that exist in the world of aviation."
Pilots at the event will also explain more about their airplanes allowing young people to discover how airplanes work and how pilots ensure safety is the prime concern before every flight.
Following the flight, each young person will receive a certificate making them an official Young Eagle.
Other activities scheduled for the Flight Rally include Airplanes on display and aviation videos.
Those attending the flight rally on Saturday are asked to come to the Terminal starting at 9am to register for their flight. Flights begin at 9am, with registration closing at 11:30 AM.
EAA sponsors many aviation education programs including the EAA Young Eagles program. More than 160,000 people currently belong to EAA, with local Chapters located in all 50 states and many countries.
Members are aviation enthusiasts of every age group, including many airline and commercial pilots, engineers, business people and even astronauts. Members enjoy all types of airplanes, including "experimental" aircraft, those aircraft built by individual craftsmen, rather than in a factory.
"Experimental" refers to the category of aircraft designed by the Federal Aviation Administration (FAA) for these types of airplanes. Similar to standard category aircraft, Experimental aircraft are inspected and certified airworthy by FAA.
EAA is a 501(c)(3) organization, recognized by the Internal Revenue Service.
For more information, call Sunday at (209) 743-6350.
The "Newsmaker of the Day" is heard each weekday morning on AM 1450 KVML at 6:45, 7:45 and 8:45 am.