Update: Names Of Suspects Released In Stolen Vehicle Recovered In Sonora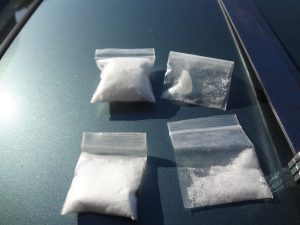 Sonora Police stolen car and drug bust

View Photos
Update at 3:15 p.m.:  The Sonora Police Department has released the names and more details regarding the traffic stop involving a stolen car and drug bust near the intersection of South Stewart and Lyons streets. Arrested at the scene were the driver, 36-year-old Robert Reed of Copperopolis and the lone passenger 38-year-old  Daniel Oliver, who is homeless, according to police. A search of the vehicle netted more than 40 grams of methamphetamine, 20 Clonazepam pills, over 14 grams of marijuana and a large amount of cash. Both were booked into the Tuolumne County Jail. Reed faces felony transportation of drugs, possession of drugs for sale and  possession of stolen property charges. Oliver was charged with felony transportation of drugs and possession of drugs for sale.
Original post at 9:45 p.m.: Sonora, CA — Two were arrested after a stolen vehicle and large amount of drugs were located near the intersection of South Stewart and Lyons streets.
Sonora Police Chief Mark Stinson says an officer pulled over the vehicle for running a stop sign this morning. After reviewing the license plate numbers, the police department discovered the sedan had been stolen out of Sonora on April 11.
Chief Stinson adds, "The driver and passenger were both taken into custody. During a search of the vehicle a large amount of methamphetamine was located and a large amount of cash."
The case is still very much under investigation, and no further information is immediately available. Chief Stinson reports that more details will be released later today, including the names of the individuals arrested.
The vehicle was pulled over around the eight o'clock hour and traffic was detoured around the crime scene.