Electronic Piñata Creator Wins Innovation Challenge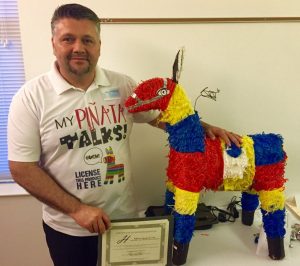 Octavio Valencia and the talking Pinata

View Photos
Sonora, CA — Six finalists competed at the inaugural Tuolumne Innovation Challenge held Tuesday evening at the InnovationLab in Sonora.
It was hosted by the Alliance Small Business Development Center and the Tuolumne County Economic Development Authority. During the first round, the competitors had two minutes to give a quick and detailed presentation on their products. The innovative proposals included everything from improved fire hydrants to clothing accessories, connecting residents to the government via social media, meat processing solutions and a mini generator.
The top three finalists moved onto the second round, where the competitors answered "rapid-fire" questions about their product and business plan. The competition was open to residents of Tuolumne, Calaveras and Merced counties.
The winner was Octavio Valencia of Merced who had a very polished presentation pitching his electronic talking piñata. Valencia will receive $1,500 in cash to help move his business plan forward, and $2,000 worth of professional services donated by Gianelli & Polley, Sabre Design and Robert Hawkes Jr., CPA.
The organizers indicated that they hope this is the first of several innovation challenges that will be held in the years ahead in Tuolumne County.