Sonora Trustees To Tour Measure J Construction Underway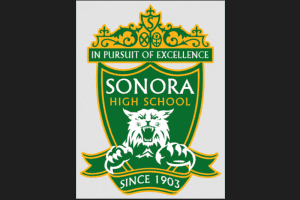 Sonora High School logo

View Photos
Sonora, CA – A walking tour of current construction projects underway on-campus will be the first order of business for the Sonora Union High School District Trustees Tuesday.
As previously reported here, despite winter rains construction remained on schedule. Cafeteria construction is now well underway, as is the track and field renovation. The tour will take place at 5:30, after which the regular meeting will follow at 6 in the school's first floor conference room.
After a more formal construction update by District Superintendent Pat Chabot, the board will hear three additional presentations. The first, which will center on the school's Big Ideas Math Curriculum, will be given by Debbie Hoppe; Brian Miller will follow with a Career Tech Ed update; Robert Mayben is also scheduled to speak on Special Ed and the Wildcat Ranch.
Among the action items the trustees anticipate adopting district goals and a board action calendar for the next school year as well as approving school calendars for the next two school years. They are also slated to approve the district's updated Educator Effectiveness Plan, which allocates funding for targeted training for Beginning Teacher and Administrative Services induction programs; Advanced Placement summer institutes and workshop for AP teachers; and Resource Coaching and Mentor Teacher support. In other business the trustees anticipate approving two new courses of study: agricultural biology and basic drama.
In personnel matters, the board looks to finalize the hiring of Mark Ferreira as a Fire Science teacher, effective July 1. Other slots it is shortly seeking to fill include an English or Social Studies teacher, an Assistant Swim Coach and Girls' Varsity Basketball Coach. Teacher Karen Sells  submitted her resignation to the board so that she may accept a position as Assistant Principal, effective June 30.