Alleged Burglar Caught With Cache Of Stolen Items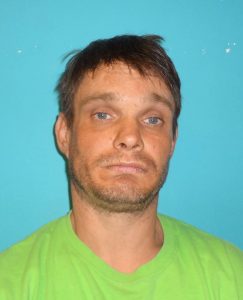 Jason Knight, booking photo

View Photos
Sonora, CA – Sonora Police report discovering a cache of stolen property from multiple incidents during a burglary arrest near the downtown area.
According to the Sonora Police Department, an hour after taking a burglary report from a North Washington Street resident Saturday afternoon, police were alerted to suspicious activities by an unidentified male, reportedly dragging a garbage can through the area of Columbia Way and North Stewart Street. Interestingly enough, a garbage can was among the items taken in the North Washington Street incident. Other possessions reported stolen at that location included a generator, electric miter saw, three fishing poles with reels, and two tackle boxes. Police report that just before 5 p.m. they located the male subject, still towing the garbage container, which held fishing poles and a miter saw. The man, subsequently identified as Jason Knight, a 40-year-old transient, was found to be on felony probation for possession of stolen property.
A subsequent search of Knight's campsite turned up what police describe as a large amount of stolen items. Among these were more of the missing possessions reported as part of the North Washington Street burglary. These, totaling around $1,500, were identified by the resident. According to the police report, victims of other recent thefts in the area who were contacted managed to identify their property from among the recovered items. Knight, placed under arrest without incident, was booked into the Tuolumne County Jail and charged with felony possession of stolen property and felony violation of probation.