Waterfalls Beginning To Roar In Yosemite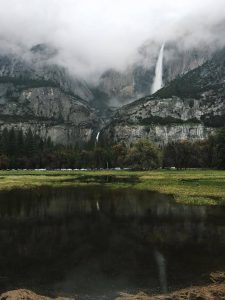 Yosemite Falls

View Photos
Yosemite, CA — With temperatures starting to rise, the waterfalls are coming to life in Yosemite National Park.
The National Park Service reports that the best time to view waterfalls is when the snow melts throughout the spring months. The peak season typically continues through May or June, with only a trickle of water visible by August. Storms in the fall months will rejuvenate some of the waterfalls.
Waterfalls that have noticeably come to life in recent weeks include Yosemite Falls, Vernal Fall and Nevada Fall. The Associated Press adds that high waters have closed the Merced River to rafting for a few days, following the weekend precipitation.
A snow survey conducted April 1st measured the water content of the Merced Watershed at 91% of average and the Tuolumne Watershed at 89% of normal.
Glacier Point Road plowing started on a four mile stretch between Ostrander Lake and Mono Meadow trailheads on April 8 and will end at Sentinel Dome/Taft Point trailhead. The snow depth on that stretch of road is four feet. Tioga Road plowing will begin Apr 18. There is no opening estimate for either area.