Man Arrested For Threatening To Shoot Sonora High Students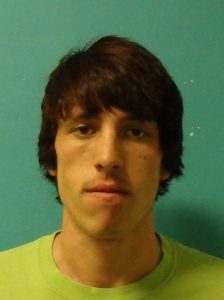 Elijah Perez

View Photos
Sonora, CA — A 20-year-old Sonora man was arrested after posting on Twitter that he was planning to shoot students at Sonora High School.
Over the weekend, three students from the school came to the Sonora Police Department to report that Elijah Perez was making threats on social media to kill three specific students.
A report from the Sonora PD states, "The students showed officers Twitter messages Perez had sent. The Twitter messages were all centered on Perez carrying out a school shooting, plus targeting three students. In his messages, Perez referenced being on the news for killing students, and going to prison for the shooting."
The students feared that Perez was going to target an Every 15 minute presentation, which took place earlier this morning (Monday). Every 15 minutes is a simulation that shows students the dangers of drunk driving.
The Police Department report continues, "Officers contacted Perez at his residence regarding the threats. Perez admitted to making the threats via twitter. He also admitted to Tweeting he was going to shoot up the school, as well as target three specific students. A search of Perez's residence only revealed a pellet gun. Perez was taken into custody without incident and transported to the Tuolumne County Jail where he was booked for felony making criminal threats. There appears to be no other individuals involved in the threats."
The Police Department reports an investigation into the matter is ongoing.
Sonora High Superintendent Patrick Chabot says the school learned about the matter from the PD early this morning. Chabot says, "We learned that a former student has made some threats against the school on Twitter. From what we understand, that person has been arrested and the police are investigating it. We really don't know anything else about it. We feel our students are as safe as always."
Chabot did share that the suspect in custody already had a "stay away" order from the school for his involvement in a fight at a Sonora High basketball game that occurred this past December at Columbia College.
When asked by Clarke Broadcasting, Sonora Police Chief Mark Stinson also emphasized that he feels the students are safe, as the suspect is in custody. He does add that the school resource officer is on campus today.