Tuolumne County Officials Providing Updates On Tree Removal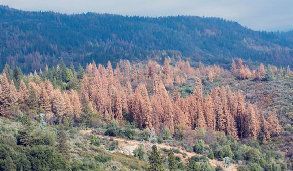 CAL FIRE Image of Drought and Insect-impacted trees in the Sierra Nevada

View Photos
Sonora, CA — Additional tree mortality forums are coming up next week in Tuolumne County.
They are designed to provide an opportunity for Tuolumne County residents to learn about the local effort to remove dead and dying trees. It is a coordinated effort with several partnering agencies. Topics at the forums will include hazard tree removal efforts, woodyard locations, project area maps and slash/wood disposal sites. Ample time will be set aside for a question and answer session.
The first forum was held last night at Columbia Elementary School. Additional meetings are scheduled for Tuesday, April 12 in the Board of Supervisors meeting room at 2. South Green Street in Sonora, two days later, Thursday, at the Twain Harte School Cafeteria, and the final meeting will be April 19th at the Tenaya Elementary School Gym in Groveland. All of the meetings will start at 6pm.
Participating agencies include County OES, County Roads, County Air Pollution Control, Cal OES, CAL Fire, Caltrans, Natural Resources Conservation Service, US Forest Service, AT&T, TUD, PG&E, the Fire Safe Council, and other special districts.