Local Elections Officials Share News, Need For Poll Workers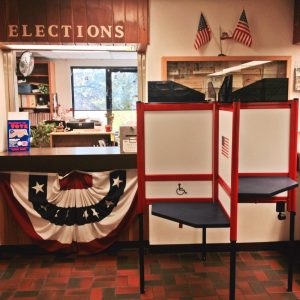 Tuolomne County Election Office

View Photos
Sonora, CA – Local election officials say that while all voters should vote in the June 7 primary, the rules are a little complex about how primary voting for the US President goes.
Both Elections Offices in Tuolumne and Calaveras counties checked in with Clarke Broadcasting to outline the process (explained below). Tuolumne County Elections Supervisor Robbie Bergstrom additionally shares, "This year we have actually seen a huge increase in interest in people wanting to vote in the June primary election…we have seen this both in the registrations…online and paper registrations coming to our office…and also just questions and phone calls, coming to our counter, and emails."
Due to the anticipated turnout, Bergstrom confides, "One of the biggest challenges that we are facing at this moment is trying to understand how many voters are going to be coming to the polls — we need to print enough ballots for all who are wishing to vote in the election — we need to predict, ahead of time, how many that will be."
Presidential Primary Voting Details  
Those who are registered with a political party may simply vote for a candidate within their party. Registered voters with no party preference who would like to select from Presidential candidates running on the Democratic, American Independent or Libertarian primary ballots. This can be done simply by requesting that ballot at your polling place. Voters by mail were already sent postcards they may fill out, indicating their choice, and mail back to their county elections office.
A little extra effort is required for voters with no party preference interested in casting a ballot for any Presidential primary candidates running on the Republican, Green or Peace & Freedom tickets. You must first re-register to vote with that party. The deadline to do this is May 23 – which is also the last day for any voter to register for the June 7 primary.
For voters by mail, those ballots are being mailed out the week of May 9.
Poll Workers Wanted
The Calaveras County Elections Office has sent out an urgent request Wednesday that about 30 poll workers are still needed to help from 6 a.m. until 10 p.m. on June 7 in the following areas: San Andreas; Burson; Mountain Ranch; Rail Road Flat; West Point; Mokelumne Hill; Murphys; Angels Camp; Copperopolis; and Valley Springs. According to Clerk-Recorder-Election-Coordinator Robin Glanville, stipends are $85 for clerks and student poll workers. Additional $5 to $10 payments are provided for performing specific related chores.
Bergstrom says that the Tuolumne County Elections Office will also have a definite need for poll workers, although it is not yet certain how many and for which areas. While stipend payments are still being determined, he adds that training will occur between May 24 and June 2, and that students are actively being encouraged to apply and be part of the process.
Applicants in either county, unless participating in the student poll worker program, must be 18 years of age or older; a California resident; and either a US citizen registered to vote or a legal permanent resident with a green card.
In Tuolumne County, contact the Elections Office at 209 533-5570. Poll worker applications are available by clicking here.
Contact the Calaveras County Elections Office at 209 754-6376. Applications are also available by clicking here.