Second Weekend In April Events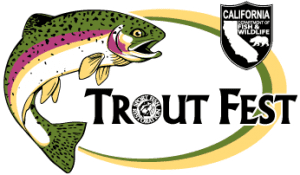 Trout Fest Logo

View Photos
This weekend calls for more spring rain but it won't stop all the planned Saturday and other weekend events from happening. Friday's mostly evening events are listed here.
Trout Fest is this Saturday at Moccasin Creek Hatchery. Free activities for 15 years of age and under include touching a fish, tasting a fish, feeding a fish, and information about all the ways to catching a fish. The event listing with the location is here.
It is already the second Saturday in April so Sonora will be hosting another Second Saturday Art Night. Starting at 5pm galleries, restaurants, and shops offer art, live music, performances and art demonstrations.
Details on the 35th Home and Garden Show Saturday and Sunday at the Mother Lode fairgrounds are here. There is a free shuttle from the Junction on both days. A vote for Bernie event as detailed here, will be held by the train at the Mother Lode Fairgrounds entrance both days as well.
Details on the Jamestown Family Resource Center  Pancake Breakfast Saturday are here.
Everyone is invited to the 1st Annual Breakin Clays-Shoot and Chuck Fundraiser for Summerville FFA and Trap Club on Yosemite Road, details are here.
5K Color Run For Kids is held at Tuolumne get all the details here. All proceeds will go towards purchasing educational materials for Summerville Parent Nursery School. It will go on rain or shine.
Join the Calaveras Genealogical Society's Spring Social in Murphys or Living History Day at the Angels Camp Museum. Don't forget Railtown 1897 is now open.
More Sunday events are all listed here.
More April events are in our event calendar.
Next Week: Click on a date for more events coming up

S
M
T
W
T
F
S
10
11
12
13
14
15
16