Update: New Details On Double Fatal Crash Near Yosemite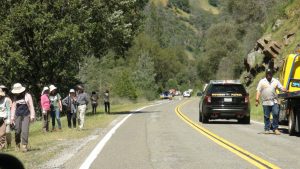 Double fatal crash on HWY140
Update: 12:30 a.m.: The Mariposa County CHP has released new information on the three victims involved in the deadly head-on crash on Highway 140 Tuesday afternoon heading into Yosemite National Park. The names of the two drivers that died are still being withheld pending notification of family. However, the CHP has revealed that both are from California.  One was a 47-year-old female from El Portal, who was pronounced dead at the scene. The other was a 56-year-old male from Midpines, who died on the way to the  hospital. A passenger in the man's vehicle, 48-year-old Tim Todd Hartley, also from Midpines, suffered major injuries.
The CHP reports the female, driving a 2011 Honda CRV east on Highway 140 near the Briceburg Bridge, crossed into oncoming traffic. Her vehicle smashed head-on into a 1996 Dodge Caravan driven by the male. Hartley was in the front right passenger seat of the van. He was airlifted to Doctor's Medical Center in Modesto suffering from a fractured hip.
CHP officer Vince Roeber indicates that the investigation is ongoing regarding whether drugs or alcohol were involved in the deadly wreck.
Original Post 4/5/16 at 5:30 p.m.: Mariposa, CA — Two people are dead after a head-on crash on Highway 140 heading into Yosemite National Park in Mariposa County .
The Mariposa CHP reports that the double-fatal accident happened around 1:15 p.m. Tuesday near Bull Creek, east of Briceburg.  The wreckage blocked both lanes, forcing the highway's closure while emergency crews worked to free three victims trapped in the vehicles.  For nearly two-and-a-half hours officers rerouted traffic, which had backed up in both directions, as tow crews worked to remove the wreckage.  The roadway reopened just before 5 p.m.
Both drivers were pronounced dead at the scene, according to the CHP.  The victims' identification information is not being released, pending notification of their families.  The CHP had no details on the injuries to the third person involved. The incident remains under investigation with no further information on exactly what might have caused the tragic crash.
A special thank you to our community partner Paul Vasquez for the photo and video.