Forest Service Tackling Local Hazard Tree Abatement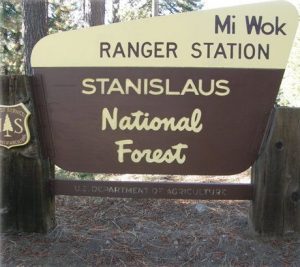 Mi-Wok Ranger Station - Stanislaus National Forest

View Photos
Sonora, CA — This week in response to growing public safety concerns over dead and dying trees, the U.S. Forest Service is initiating hazard tree abatement and fuels reduction work in the Mi-Wok Ranger District area of the Stanislaus National Forest (STF).
STF officials state that a Type II crew of Forest Service staff is tackling identified priority treatment areas in and around the communities of Mt. Knight and Jupiter, east of Columbia; Forest Road 4N01 off Italian Bar Road; and public lands adjacent to private property boundary lines. The public is asked to be especially cautious in these areas, as forest and contractor crews are falling trees and often piling slash within 200 feet of the forest roads.
As more funding is secured, future treatment areas will include hazard areas adjacent to communities as well as campgrounds and trail heads, administrative facilities and nearby roadways. Private landowners close to the forestland perimeters with concerns about public lands-located trees close to their properties that may be posing a threat to structures and/or people may fill out evaluation request forms, available at the visitor information desks within each ranger district. Call any of the following numbers with related questions: the Stanislaus Supervisor's Office, at 209 532-3671; Calaveras Ranger District (RD), at 209 795-1381; Groveland RD, at 209 962-7825; Mi-Wok RD, at 209 586-3234; or Summit RD, at 209 965-3434.