Stolen Item And Loaded Gun Found During Traffic Stop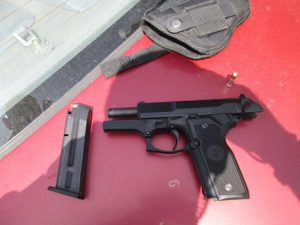 Gun Found During Traffic Stop

View Photos
Sonora, CA — The Tuolumne County Sheriff's Office arrested two in East Sonora yesterday morning after a stolen item was located during a traffic stop.
Sheriff's Deputy Nathan Yorston recognized the driver, 26-year-old Wayne Dunlap of Sonora, as having a warrant for his arrest. Once pulled over, a stolen I-Phone, as well as a loaded 9mm handgun, was located underneath the driver's seat.
Taken into custody was Dunlap, and the lone passenger, 31-year-old Isela Sandoval. Sandoval was booked on a misdemeanor of receiving stolen property, and she was released. Dunlap was booked on $20,000 bail, which he was able to post. Dunlap faces charges related to being a felon in possession of a firearm, receiving stolen property and driving without a license.