Sonora Pass To Open In Time For Trout Season April 30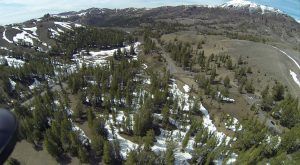 Sonora Pass from Quadcopter

View Photos
Stockton, CA — Caltrans began its spring clearing of Highway 108 over Sonora Pass today.
Crews are removing snow, clearing debris, inspecting the roadway and making the appropriate safety improvements. Plans are to get the closure gates at Eagle Meadows and Kennedy Meadows open as soon as possible — with the goal to open Sonora Pass to Kennedy Meadows Road in time for the beginning of trout season, Saturday, April 30. Officials request that pedestrians, bicyclists or other vehicles refrain from slipping through the closure gates while maintenance crews are conducting their snow removal and maintenance work.
In past years, Caltrans set its pace to get the mountain passes open ahead of Memorial Day Weekend. Last year, as previously reported here, Sonora Pass and Highway 4 Ebbetts Pass were both open by mid-April due to proactive work and a mild winter.
This week, Caltrans is quite busy across the Mother Lode roads. As previously reported, cone zones are in place along all the state highways in both counties. For details on all the hot spots, click here.