GOP: Let's Eliminate The Threat Of Terror Groups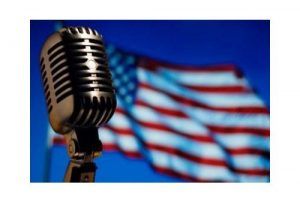 Microphone and US Flag

View Photos
North Carolina Sen. Richard Burr delivered this week's Republican address, talking about the threat of terror and what needed to be done to keep Americans safe.
Burr was Tuesday's KVML "Newsmaker of the Day".
"Hello, I'm Senator Richard Burr from the great state of North Carolina and I'm honored to chair the Senate Select Committee on Intelligence.
Today, I'll lay out for you the terrorist threat to the United States and our allies – a growing threat that is no longer confined to the Middle East, South Asia, or even Europe. Since the deadly attacks in Brussels just two weeks ago, there have been four additional significant terrorist attacks that left almost 150 dead – two in Iraq, one in Yemen and one in Pakistan.
Our nation and allies continue our post 9/11 efforts to dismantle and defeat al-Qaida while the Islamic State – a group whose lineage dates back to al-Qaida in Iraq – has grown in influence.
The Islamic State's technical and social media savvy has inspired many to join its cause and to conduct horrific acts. The Islamic State is well financed, well organized, and fields combat units that are well trained and brutally effective. Those trained and effective fighters are now deploying beyond Iraq and Syria, and often to devastating effects, as seen in the streets, cafes, and airports of Paris and Brussels.
Simply seeking to contain ISIL should no longer be seen as an acceptable course of action.
While the President has claimed that ISIL is 'contained' in Iraq and Syria – I think the more important metric is ISIL's global footprint. ISIL has declared provinces in ten countries. It has aspiring affiliates in seven others; and has a presence in over 30 countries. And, perhaps most troubling, is the growing ISIL influence in Libya and Afghanistan. From their safe haven, the Islamic State continues its ongoing efforts to plan and carry out attacks.
I just returned from an oversight trip to Europe where I had the opportunity to speak directly with our Intelligence Community officers overseas and our European partners struggling to address an unprecedented volume of threats. I've spent almost 15 years conducting oversight of our Intelligence Community and I am briefed almost daily on the threats and issues of concern.
I cannot remember a time where the United States and our allies faced a greater array of threats across the world. I remain concerned that there are additional threats and plots – some that we have identified and are pursuing, and some that we will likely not. I feel strongly that we cannot simply focus our efforts on how to best respond to attacks once they've happened.
We must, collectively, be more proactive in engaging the enemy. Before 9/11, our enemies were confined to safe havens abroad – that's no longer the case.
Our Intelligence Community and Law Enforcement agencies are engaged 24/7 in identifying and thwarting threats to the U.S. interests at home and abroad. Since 2014, Federal prosecutors have charged 80 men and women inside the United States in connection with the Islamic State. Director Comey has publicly stated that the FBI has almost 1000 open investigations against suspected ISIL operatives, recruits, and individuals in all 50 states.
When the President says that we must seek to 'contain' ISIL – I don't know where he wants to contain them: ISIL operatives are everywhere. We're beyond containment and must move decisively and with purpose to eliminate the Islamic State. Overseas we must work with our allies to target its leadership, its infrastructure, and its financial support network. Domestically, we must enable our law enforcement and give them the tools and authorities they need to keep our citizens safe at home.
The world in which we live is becoming increasingly dangerous and the number of extremists who wish to do us harm is growing. More troubling, their capabilities to do harm may soon outpace the Administration's strategy of 'containment.' The President accurately stated last week that 'ISIL poses a threat to the entire civilized world.' Now it is time for our strategy to match that threat.
While focusing on ISIL, however, we cannot afford to take our eyes off the persistent and ongoing threat posed by al-Qaida and its affiliates. Al-Qaida remains brutally effective and inspiring to many extremists, even with its senior leadership likely hiding out in the remote and mountainous border regions of Afghanistan and Pakistan. Its affiliates are also committed to attacking us – and they have the capabilities to do so.
While I agree with the President's senior leadership team that we must maintain relentless pressure on al-Qaida, we must ensure that our words are followed by a renewed commitment to action.
We have identified the threat, now let's act decisively to eliminate it.
Thank you for listening. God bless America."
The "Newsmaker of the Day" is heard every weekday morning on AM 1450 KVML at 6:45, 7:45 and 8:45 AM.