Columbia's 166th Birthday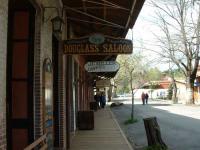 Columbia, CA

View Photos
Gold was first discovered in Columbia, California on March 27th 1850.
The immediate post chairman of the Columbia Chamber of Commerce, Gary Neubert, was Friday's "Newsmaker of the Day".
Today, there is a sign marking where the gold was first discovered near the large parking lot of Columbia State Historic Park.
Because Easter is on Sunday March 27th this year, Columbia will celebrate the town's 166th Birthday one day early, on Saturday March 26th. Beginning at 11 AM there will be speeches, discovery reenactments and cake and punch served to the public.
On Easter Sunday, there will be a Victorian Easter Parade at 12:30 PM and several egg hunts for the little ones before and after the parade.
Columbia is a highly active State Historic Park with events nearly every weekend during the Spring and Summer and a number of traditional events stretching all the way towards Christmas. A Thursday night Farmers Market will also return for it's second year run this May.
One of the advantages for both tourists and locals is that there is no admission charge into the State Park.
Asked about the state of business in Columbia, Nuebert was optimistic.
"Columbia House Restaurant just reopened after being closed since Christmas of 2012," said Nuebert. "The What Cheer Saloon is running. The Jack Douglass Saloon will likely reopen the St Charles Saloon soon. The Pioneer Emporium will reopen soon as well. And the Fallon House Theater continues to thrive. There is one downside. Umpqua Bank will close it's branch in Columbia, so we would like to see another bank replace that."
For more information about the Columbia Chamber and the numerous Chamber sponsored events that take place in Columbia log onto http://www.visitcolumbiacalifornia.com
You can also call (209) 536-1672.
The "Newsmaker of the Day" is heard each weekday morning on AM 1450 KVML at 6:47, 7:47 and 8:47 AM.