Birthday To Bloom Life Into Butte Fire Burn Scar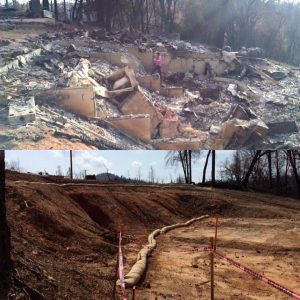 Property cleanup before and after

View Photos
Calaveras County, CA – A family that lost their home to the Butte Fire wants volunteers to help celebrates a birthday by planting new life in the burn scar.
The family admits it hopes the lure of a party will help bring hundreds to help seed native wildflowers on 40 properties. That enticement appears to be working, as organizers anticipate nearly 250 people will descend upon the Mountain Ranch area of Calaveras County with shovels and rakes in hand.  In January, organizers seeded 415 wildflowers in one gallon pots that have sprouted and are ready for planting.
The event dubbed the "Butte Fire Flowers Volunteer Day" by organizers is set for Saturday, April 2. Volunteers are asked to bring water, a folding chair, shovels, and rakes. They will also be required to sign a volunteer waiver.  A check-in will take place between 10-10:30 a.m. at 8321 Old Emigrant Trail West in Mountain Ranch. Work gloves and lunch will be provided.
More than 500 homes were destroyed in the Butte Fire with nearly 71,000 acres   scorched by the flames before being contained on Oct. 1. The fire began Sept. 9.