VW Bug Hits House, Driver Wanted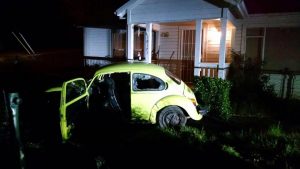 Hit-and-run, Tuolumne City, March 19,-2016

View Photos
Sonora, CA — Two still unidentified subjects who literally ran into a house are being sought by law enforcement officials following a weekend accident.
The California Highway Patrol (CHP) Sonora Area Unit and Tuolumne County Sheriff's Department are sharing that the bizarre Saturday night incident occurred just before 11 p.m. and is being billed as a hit-and-run accident. After plowing into a house at Yosemite Road and Maple Street in Tuolumne City both the driver and passenger of a 1974 lime green Volkswagen Beetle took off running on foot.
According to the Sonora CHP, no one was hurt. In the incident report the subjects were described as white males, one with dark hair, who grabbed a jacket and a fishing pole from the vehicle before beating it on foot. The VW was subsequently towed and impounded. The case remains under investigation. Anyone with information may call CHP Sonora Area office at 209 984-3944.