Deadline Passes For Races Without Incumbent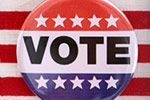 elections

View Photos
Sonora, CA — Some people that earlier expressed an interest in running for local office chose not to turn in the final paperwork by a key deadline yesterday.
In the Sonora City Council race, there are three open seats, and four candidates. Incumbent Ron Stearn is giving up his seat that he has held for over 50 years by not seeking re-election. Other incumbents Connie Williams and Bill Canning are running, as are former councilman Matt Hawkins and businessman Mark Plummer. The Tuolumne County Elections Office reports that attorney David Axelrod had begun the process of running, but did not turn in the final paperwork by yesterday's deadline.
In the District Two Calaveras County Supervisors race, where incumbent Chris Wright is not seeking re-election, there were two potential candidates that started the process of being on the ballot. However, Jack Garamendi Jr. was the only candidate to file before yesterday's deadline, as Sean White declined.
There were no last-minute surprises in the District Four race, where incumbent Debbie Ponte earlier declined to seek re-election. The three candidates will be Dennis Mills, Ann Radford and Sherri Smith.
The Supervisorial races for Tuolumne County District One, Four and Five, and Calaveras County District One, were all finalized last Friday because the incumbents chose to seek re-election. The deadline was only pushed to Wednesday for races where the incumbent is not running.
The California Secretary of State's Office has not released a final list of candidates yet for the local Assembly and Congressional races.