Customers On 'Boil Water' Notices May Soon Get Relief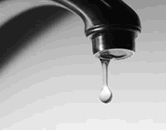 Water

View Photos
Sonora, CA — Those on "boil water" notices from Blue Bell Valley Mutual Water Company may be able to use water straight from the tap again without boiling it by Friday.
Clarke Broadcasting touched base Wednesday morning with D-1 operator John Turner, who explains that chlorine was added and flushed through the system for 24 hours. It was then flushed out ahead of fresh sampling that was completed this morning. According to Turner, within 48 hours or sometime Friday the company should know; if the samples remain clean through the watch period, the company will lift the notice.
As previously reported here, last Friday, the company's 90 water customers began receiving the notices due to a water sample that came back that day testing positive for fecal coliform. Since that time, residents of the Blue Bell Valley Development and other nearby customers who receive Blue Bell Valley Mutual Water Company water have been advised until further notice to boil tap water and let it cool before using it, or alternately use bottled water for drinking and cooking purposes as a safety precaution. Turner adds that the company appreciates its customers' continued patience as it works through the issue.
For more information, customers should call the Blue Bell Valley Mutual Water Company Answering Service at 209 533-7954.