PML Cell Tower On Supes Agenda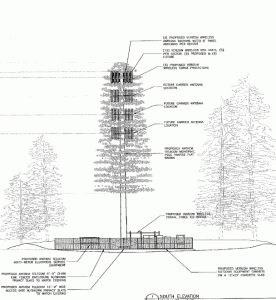 Proposed Cell Tower Design

View Photos
The Tuolumne County Supervisors will vote on plans for a tower that would bring better cellular coverage to southern Tuolumne County.
Anthem Telecom is proposing to build a 100-plus ft. tall tower, designed to resemble a tree, in the 12000 block of Par Court, on the Pine Mountain Lake Golf Course.  It would accommodate up to four wireless carriers and 36 antennas. It would be situated within a 60 ft. x 60 ft. chain link fenced compound.
In other business, the county will vote on approving an agreement with Airbnb to collect and remit Transient Occupancy Tax revenue. Tuolumne County imposes a 10% tax on the short-term rental of lodging facilities, notably collected and paid by hotels. However, with the rise of the "sharing economy," more people are renting out houses and cabins, and one of the most popular ways is via the online company Airbnb. The agreement on the table calls for Airbnb to collect the tax revenue at the point of sale, and then submit it to the county. It eliminates the need for owners of the property, who are sometimes unaware of the TOT rules, to pay the revenue.
Also, the Supervisors will hear an update on the county's long-term budget forecast through fiscal year 2021-22.
Tuesday's meeting starts at 9am in the Board meeting room.